noun\ˈbän-dij\
>the state of being a slave
>sexual activity that involves tying a person up for pleasure
In a fetish context, bondage is the act of tying up or restraining a partner. (Consensually of course!) A lot of people incorporate bondage into their sex lives, commonly as a form of foreplay. The restrained partner surrenders control to the other partner, and leaves themselves vulnerable to a variety of sexy fun!
Due to the diversity found within the realm of bondage, we are going to divide bondage into a few easy to understand types based on its motivation.
Bondage for a Purpose
This type of bondage is one of the better known. It denotes the restraint of a passive partner for an ulterior purpose. Tying up your partner in order to stop them from wiggling away during a spanking session would count as bondage for a purpose. This typically doesn't include bondage for its own sake.
---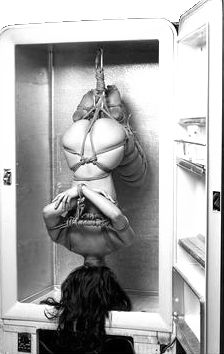 Torture Bondage
This form of bondage is used to restrain your partner (or be restrained) in a painful or uncomfortable position. Often times it is utilised in dominant/submissive play or sadistic/masochistic play. Safety measures are particularly important when considering torture bondage.
---

Decorative Bondage
This type of bondage is for decorative purposes. The restrained partner is often meant to be used as something pretty to look at, potentially for erotic photography or as a type of temporary home decoration
---
Film Bondage
If you're looking for the easiest introduction to bondage, film bondage is probably your best bet. Film bondage is for aesthetic purposes only. The restrained partner is bound very lightly and can often escape very easily.